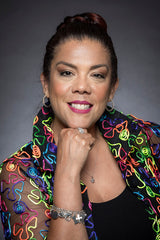 Who Am I
USAF Veteran, Educator, Coach, Professional Development, Speaker
Bernadine helps clients break through the obstacles that seem to be holding them back in life.
Do you want to break through the obstacles that are holding you back?

Do you want to develop better ways to handle life's challenges?

Do you want to find happiness and fulfillment in life?
As an Executive Director with Maxwell Leadership Certified Team, I can provide you with the following leadership and professional development programs.
Visit my John Maxwell Executive Director website for more information on direct services.
Interested in Growing Your Potential?
Learn How We Can Help You

DISC Assessment
The 30-page analysis provided by the Maxwell DISC Personality Assessment includes a thorough deep dive into your personality and strengths.

Maxwell DISC Personality Indicator Report Debrief Session
60 minute one-on-one debrief of your DISC assessment.

DICS Personality Assessment, Debrief, and Coaching Session
60 minute one-on-one debrief session of your DISC assessment and an hour coaching session.
What Our Clients are Saying
Power Your Potential has provided great insight and some fabulous products for us in many areas over a number of years. The trainers are creative and extremely well-versed in Head Start standards and Licensing regulations and practice.

Linda R
Bernadine has been a producer for my agency. They are very resourceful and I would not be where I am today without their skills, determination, focus, and professionalism.

Rhonda M
Bernadine Martinez is an exquisitely credentialed leader who brings dedication, focus and excellence to every role she's served in. She's gifted to design innovative training and instructional systems that drive cultural, transformational, and professional growth.

Now Bernadine brings that expertise, experience, creativity and focus to her professional development consulting practice.

If your team is struggling to reach the next level or you want to build capacity for them to become high performing leaders, please reach out to Bernadine Martinez.

Patrice Perkins
Ms. Martinez was a very passionate and inspiring trainer that lifted the spirits of our early childhood educators.

Kim D.
My name is Teneka Harrison and it was such a pleasure to work with Ms. Martinez on October 13,2022. Ms. Martinez was very knowledgable about the information she shared. The topics covered were relevant and well prepared. The most important part of the Director's training was the encouragement. I would love to take other trainings with Ms. Martinez in the future because of her knowledge of early childhood overall. I must say, I was truly inspired and I feel confident in going into my role as a leader.

Teneka Harrison, Sharon Baptist Head Start
Start Your Personal Growth Journey
with Power Your Potential
"It's not what you look at that matters, it's what you see"
Henry David Thoreau